Reading Time:
13
minutes
Get the right Social Media Ads image sizes can be a little more complicated than you think. Every social media platform has its very own guidelines that you must follow.
As these platforms continue to make new updates, you need to keep yourself updated so your ads will always perform. Check out our very own list that you can refer to. With this, you can have more time and focus more on creating content.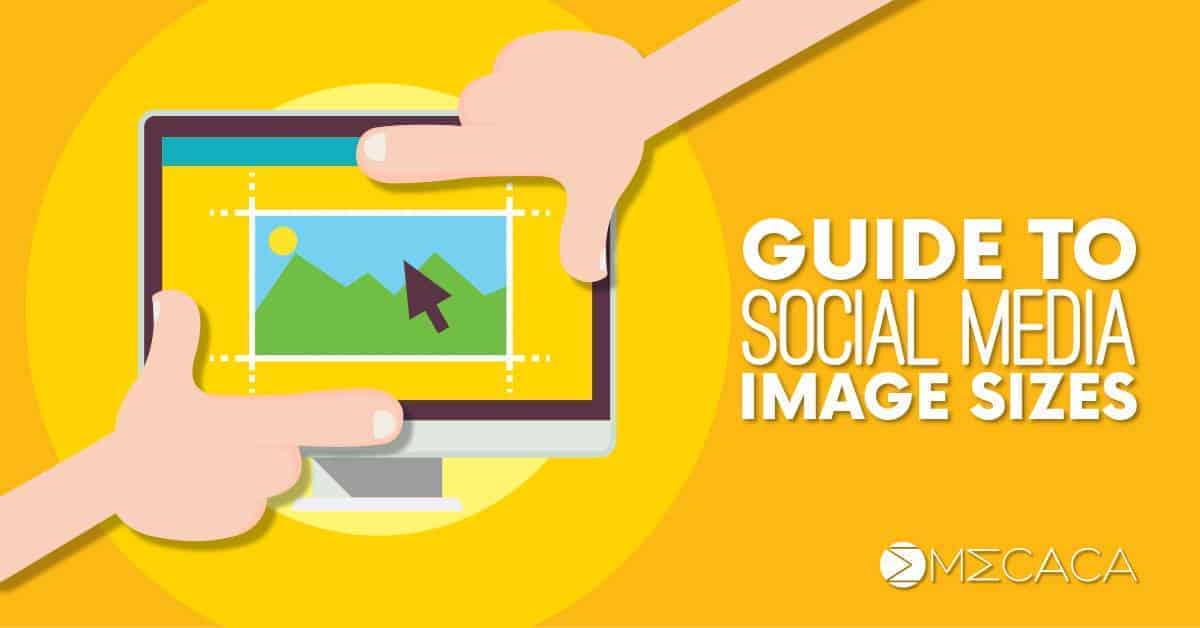 With this very list, you can begin to design the correct image dimensions for advertising on all the social media platforms and also on AdWords.
Get it right, do it right and these tips can boost your expected results.


Your Cheat Sheet to Social Media Ads Image Sizes
And now, it's time to get creative!


FACEBOOK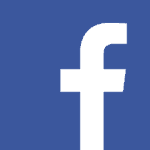 Facebook has more available formats (and more detailed guidelines) than the majority of the social media platforms out there. And it's working!
The site recently saw 56 percent growth in advertising revenue. This was over 17 percent of the entire industry's market share.
For marketers, this means Facebook is the place to post!
So far in 2018, Facebook is the most preferred ad platform. Below are its updated image guidelines to be sure that when you publish on Facebook, your post will reach your target audience.


Single Image
If well crafted, single-image Facebook posts can impress upon your viewers a single, compelling moment. One way to do that is to use a primary image that evokes empathy. Save the Children excels at this format, seen below, with a cutting image that perfectly adheres to Facebook's standards: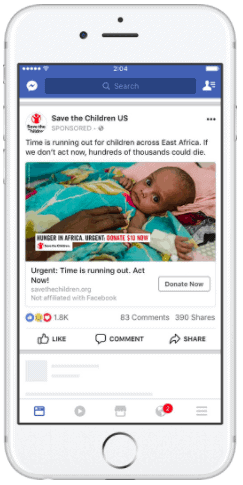 (Source)
Single-image posts are a great introduction to Facebook ads. The format helps you reach lots of customers and build interest quickly. You don't need a big budget, and you don't need lots of time to figure out how to create the ad. Once you pick an objective, you just choose your audience and then upload your content, image, and links.
Supported Objectives
Reach
Brand Awareness
Traffic
Engagement
Page Likes
Event Responses
App Installs
Design Specs
Image ratio: 9:16 to 16:9
File type: JPG or PNG
Recommended image size
Pro Tip:
Images with >20 percent text may be difficult to publish.
Use minimal text for highest exposure: 125 characters available (30 characters in link description).


Single-image variation: 360° photos
If you want to truly immerse your viewers in their surroundings, try a 360 photo.
Clicking and dragging on a 360 photo will allow you to scroll past what's immediately visible to gain a panoramic experience.
Facebook takes full advantage of the format with this arc of women, in honor of International Women's Day: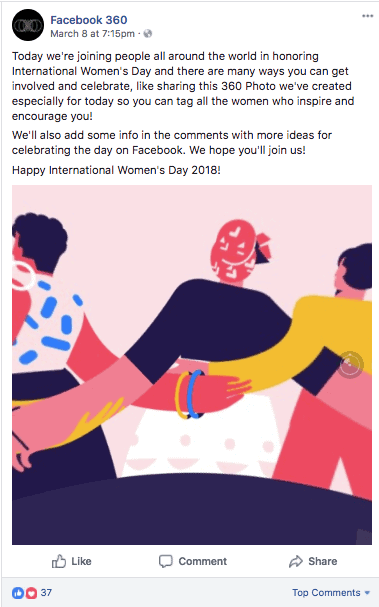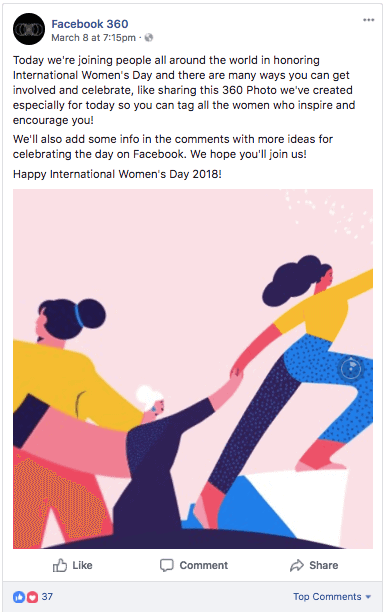 Both snapshots are of the same image—just different views, seen while scrolling around. Even with illustrated characters, the viewer has a sense of being in the middle of a celebration.
If published correctly, 360 images can add a new dimension to the way viewers understand and relate to your brand. FB recognizes 360 photos via camera-specific metadata.
Supported Objectives
Reach
Brand Awareness
Traffic
Engagement
Page Likes
Event Responses
App Installs
Design Specs
JPEG recommended
Max size: 45 MB (JPEG) or 60 MB (PNG); FB recommends >20-30 MB (JPG)
Recommended image size
>30,000 px in any dimension; >135,000,000 px in total size
Pro Tip:
Use 360-ready devices; Facebook supplies a list of cameras that marketers can use for easier uploading.


Carousel format
Facebook's carousel format is an excellent way to highlight a series of related products or several aspects of a single product, as Target does below: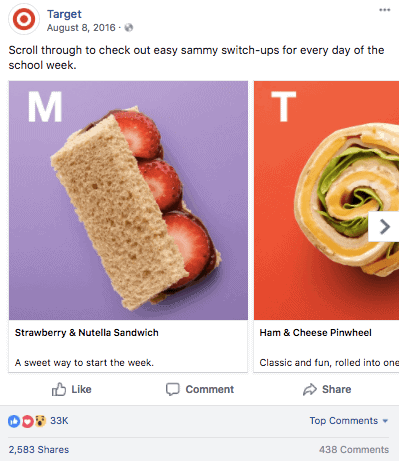 With Carousel ads, you have 2–10 cards available. Consider that viewers might not scroll through the entire set, so it's important to make sure your initial images are captivating! An added bonus: You can make each image link to a different page on your website. For example, if your objective is to increase your catalog sales, you can link each image to a different aspect of your product page.
Supported Objectives
Reach
Brand Awareness
Traffic
App Installs
Lead Generation
Conversions
Catalog Sales
Design Specs
JPG, PNG formats
Max. file size: 30MB
Recommended ratio: 1:1
Recommended Image Size
Pro Tip:
Many advertisers use carousels to achieve a lower cost per conversion. Carousel link ads have been proven to drive 30-50 percent lower cost per conversion than single-image link ads.


Collections
A Facebook collection ad consists of a cover image or video, followed by several product images. This is a great option if you want to showcase a line of items but don't want to overwhelm your audience.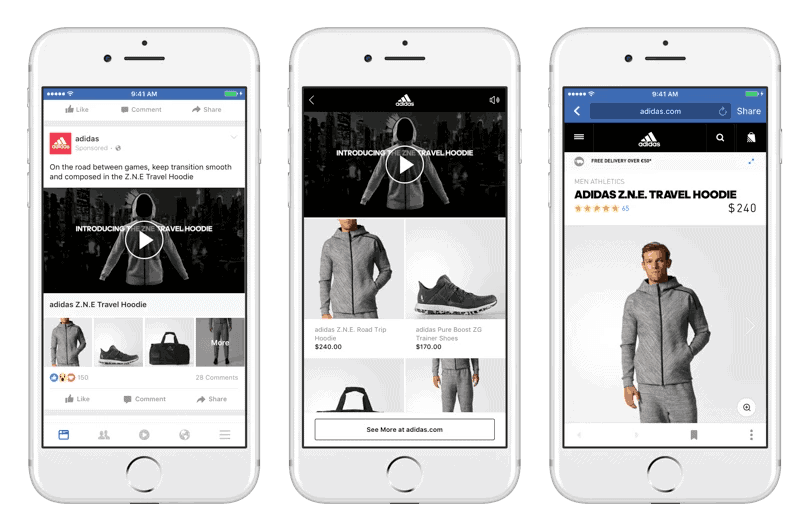 When potential customers click on your ad, they're taken to a full-screen version designed to boost engagement and get people interested in and excited about your product.
Supported Objectives
Traffic
Conversions
Store Visits
Design Specs
Aspect Ratio Tolerance: 3 percent
Recommended Image Size
Cover image: min 600X600 px
Pro Tip:
Use the grid layout to display a set of four or more products.
Use the lifestyle layout to zoom in on a single product.


INSTAGRAM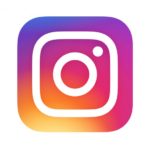 Instagram is a high-resolution, image-centered platform, so it makes sense that they would have clear rules to make sure ads adhere to the platform's high standards.
User-generated content has proven to have a high success rate among many leading brands. Red Bull, for example, recently had 70 percent of its user-generated content regrammed.
In addition, we recently highlighted several more Instagram tips from the pros to make sure your content is the most effective it can be!
But first, let's start with the basics:


In-feed Single-image ads
Image ads that appear in a user's main Instagram feed are simple to set up.
First, create your business manager account and connect this to your company pages. Then, in the dashboard, select "Create Ad" from the Power Editor or Ads Manager section.
Single-image ads should be clear about what they want the viewer to accomplish yet still blend in with the general feed: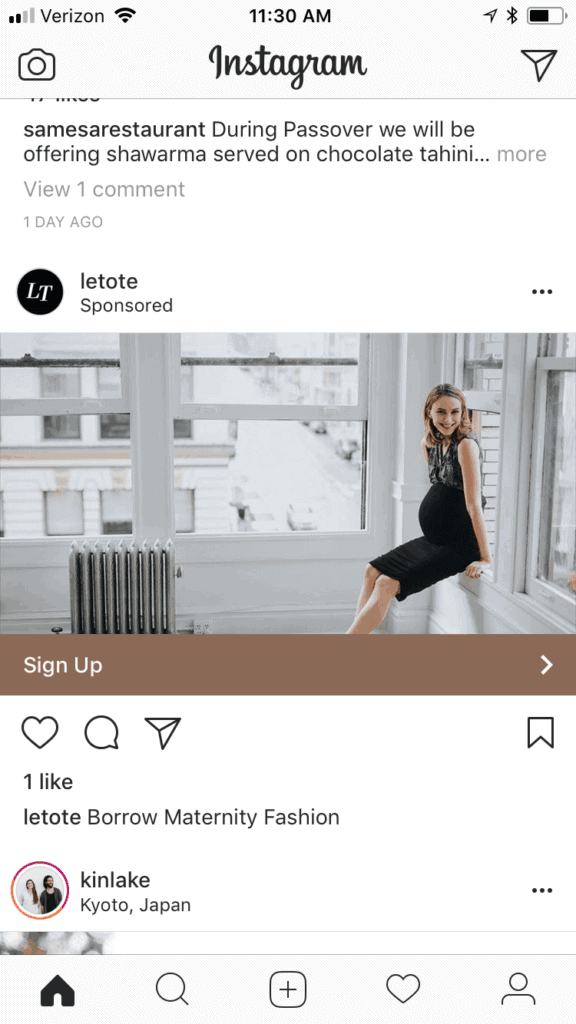 In the image above, Le Tote, which allows women to rent everyday clothing, highlights the benefits of borrowing maternity outfits. The image is subtle and friendly and remains in context with the user's other lifestyle accounts.
Selecting an appropriate call to action (CTA), like "Sign Up" will help you achieve your campaign goals, such as increased website conversions.
Supported Objectives
Reach
Conversions
Traffic
Lead Generation
Brand Awareness
Engagement
Catalog Sales
Design Specs
Image Ratio: 4:5 (min) – 1.91:1 (max)
JPG, PNG files accepted
Max. image size: 30MB
Recommended Image Sizes
Square: 1080 x 1080 px (optimal)
Horizontal: 1920 x 1080 px (optimal)
Vertical: 1080 x 864 px (optimal)
Text Guidelines
Max. text length of 2200 characters (will appear as two lines of text)
Max. hashtags allowed in text: 30
Pro Tip:
Instagram is a high-res platform; upload the highest-quality image available.


Instagram Stories
Instagram Stories are full-screen vertical ads that appear between Instagram users' Stories. Each image in the story (up to six maximum) has five seconds (or until the user swipes past).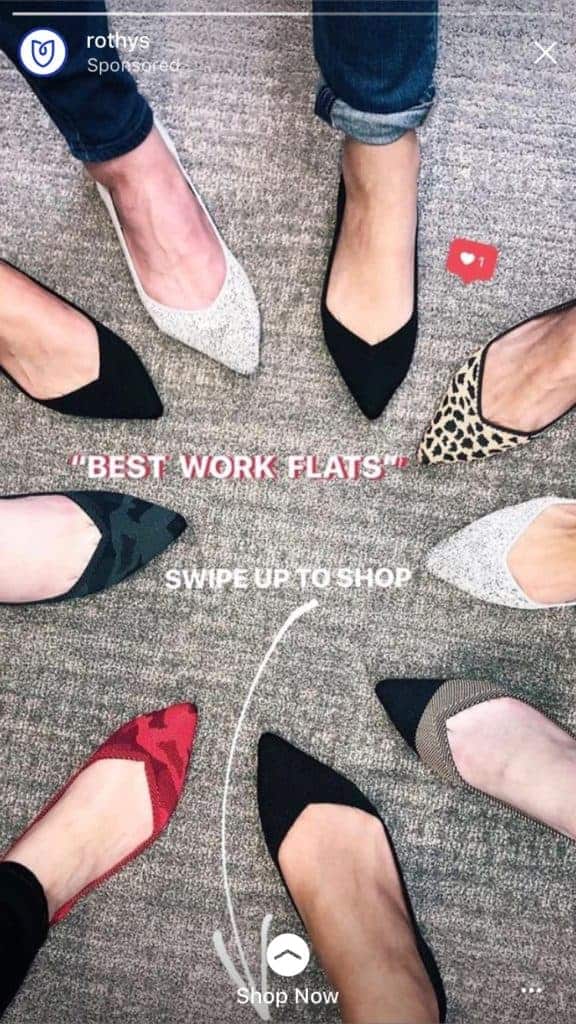 Because you have such a short time frame (Stories disappear after 24 hours), it's important to make it count!
You can reach 2–3X more users with your Instagram Stories than with static content, particularly if you get creative with your image details.
Several photo-editing apps can take ordinary content and enhance the visuals with sharper contrasts, eye-popping colors, and advanced lighting techniques (at no extra cost!).
Supported Objectives
Reach
Conversions
Traffic
App Installs
Lead Generation
Brand Awareness
Design Specs
9:16 image ratio
JPEG, PNG image files accepted
Max. size: 30MB
Recommended Image Sizes
Vertical format: 1080 x 1920 px
Pro Tip:
Avoid having your brand name and logo fade into the background of your Story image(s) by choosing specific colors that stand out.


LINKDEDIN

While LinkedIn Ads are often ignored in favor of Facebook Ads, Promoted Pins, and even Twitter Ads, after some impressive updates in 2017, it is now a viable platform for any marketer.
LinkedIn has become an excellent tool for prospecting new leads, nurturing those that you already have, and converting members of your audience ready to take the next step!
And now, with LinkedIn going all in on B2B video (the update is rolling out and will be available to all businesses in the next few weeks) Marketers and brands can leverage video for Sponsored Content and Company Pages to reach and engage the right audiences, the right way.


Sponsored content
If you're looking to target professionals who are important to your organization, Sponsored Content posts are a great tool for catching viewers' eyes as they scroll for job opportunities, industry news, and insights.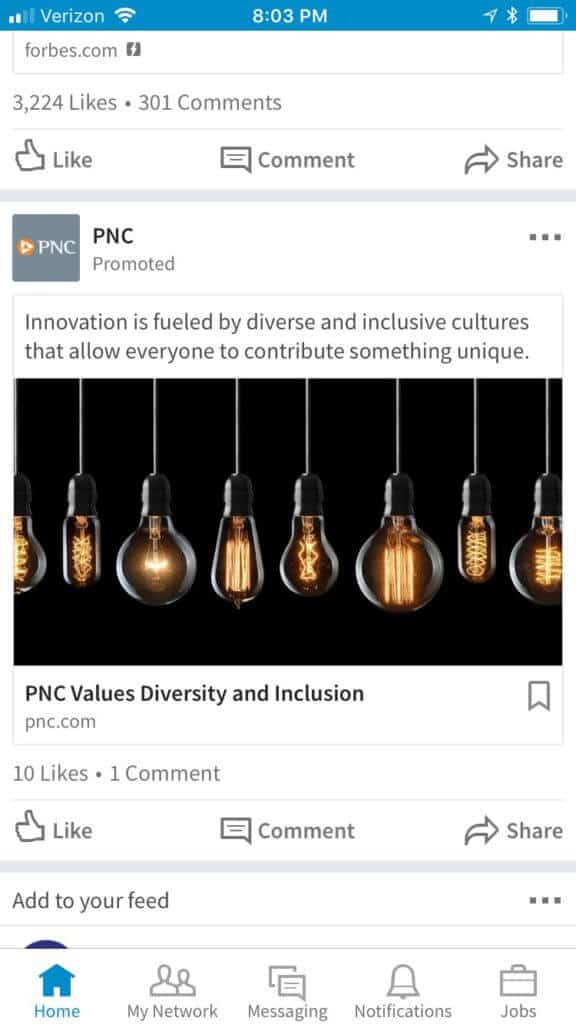 This user's feed has a particular bent toward financial services, and PNC is able to use a simple yet energetic image to spark interest in its vibrant and high-performing culture. Make sure your image follows LinkedIn's guidelines to achieve the greatest reach.
Design Specs
Aspect ratio: 1.91:1
JPG, GIF, PNG supported if manually uploaded; animated GIFs not accepted
Max weight: 100MB
Recommended Image Sizes
1200 x 627 px
Min. 400px in width (if smaller, images will appear as a thumbnail to the left of the post)
Pro Tip:
Keep text to 150 characters max to avoid truncation.
Larger visuals (as recommended above) are proven to get 38 percent higher click-through rates.


Display Ads
On a desktop, display ads appear on the right side of a user's feed. These are separate from main-feed content. Their distinct format allows for a range of possibilities, including exclusive placement on high-traffic pages, advanced targeting, and heightened brand safety with LinkedIn's fraud-monitored environment.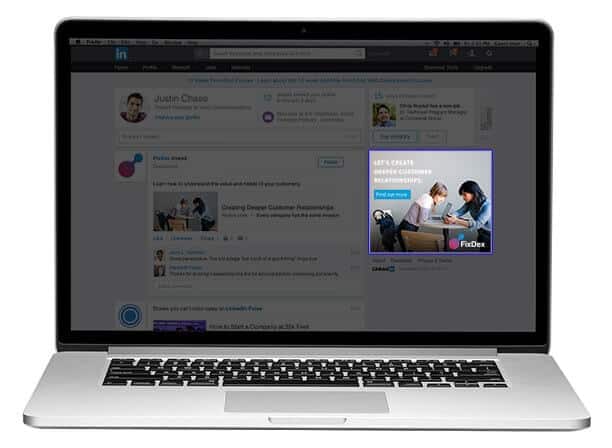 Without the clutter of copy, comments, and other in-feed posts, this display ad for LinkedIn's FixDex example enlarges the brand focus and makes the call to action, "Find out more [about how to deepen customer relationships]," more prominent to the viewer.
Design Specs
File Types: HTML5 – must be third party served GIF, JPG, PNG
Size limit: HTML5 – 200 KB, Other – 40 KB
Recommended image size
Pro Tip:
If using a white or transparent background, make sure you create a clear border to delineate your content.


TWITTER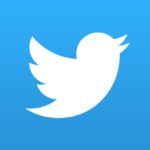 Although many people view Twitter primarily as a discussion platform, with a focus on real-time updates with text characters, Twitter is actually a boon for online marketers.
Among the most preferred social media platforms, Twitter ranks fourth, with 23 percent of the 2018 vote, behind LinkedIn, YouTube, and Facebook.
Twitter has a wide range of options for ad formats, including image cards, single image, and multi-image for both desktop and mobile—although you should opt for mobile as a preferred placement. (Over 80 percent of Twitter usage is via mobile.)
Among the suite of options for advertisers, promoted tweets perform best.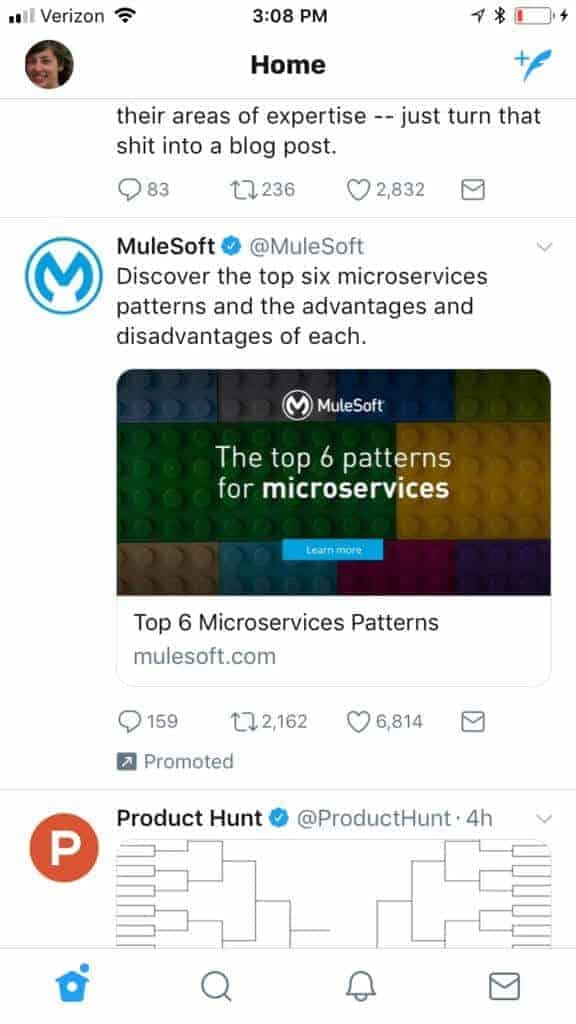 MuleSoft delivers a clear message that fits into the rapid updates of a user's feed, yet it's distinct in the quality of its copy, the clarity and resolution of its image, and the simplicity of its CTA. MuleSoft's ad is highly functional without being boring, employing a subtle visual repetition that complements its call to "discover the top six microservices patterns."
Twitter continues to improve its ad platform, and now is a great time to hop on board.
Design Specs
16:9 aspect ratio
PNG, JPEG, GIF recommended
Max size:15MB on twitter.com and 3MB on ads.twitter.com
280 tweet characters available
Recommended image size
Min. 600 X 335 px; larger images, ideally 1200 X 675 px, will be better optimized when users click to expand.
For image website and image app cards, as well as multi-image formats, see Twitter's detailed specs.
Pro Tip:
If using the same image across desktop and mobile, keep mobile specs—which are guaranteed to work across both.
Avoid cold stock images that blend with Twitter's background.


YOUTUBE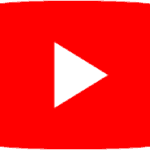 YouTube has an enormous and diverse audience that relies on both YouTube's and Google's search engines to find desired content. YouTube videos show up early in Google's search results.
Even better—YouTube is the second most commonly used search engine after Google.
So, if you adhere to YouTube's guidelines (first priority), and then craft an optimal creative, you have the chance to rapidly connect with your target audience—instead of hoping your Facebook Ad shows up in their feeds.
Bonus statistic: Only 9 percent of small businesses are using YouTube. If you're a small team looking to grow, you could have an enormous advantage by advertising your products and services on this platform!
See here for specs on semi-transparent desktop-only overlay ads.
Below, we focus on larger, more visible YouTube display ads.


Display Ads
Display ads appear to the right of the feature video and above the video-suggestions list: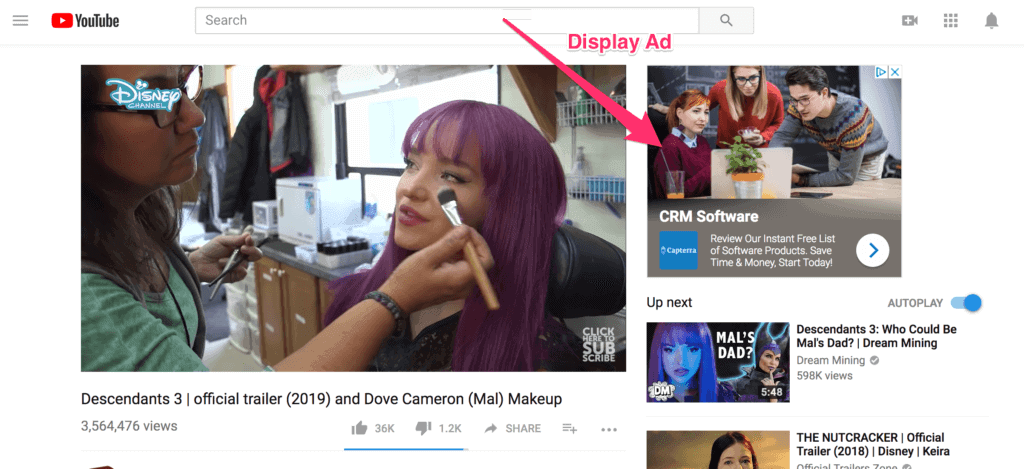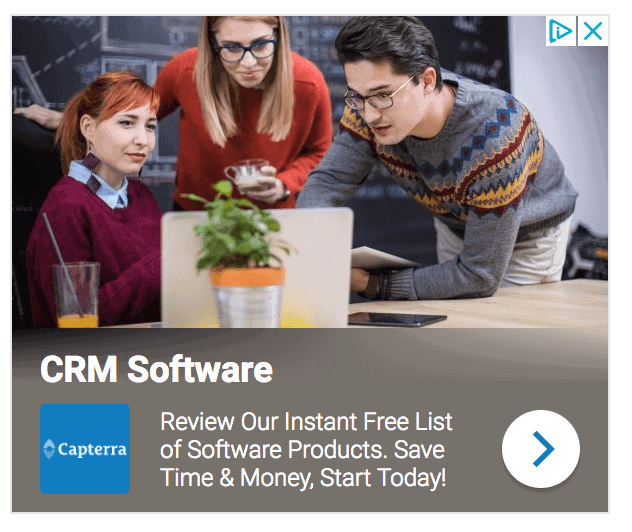 This Capterra ad places the viewer right in the middle of the action. Choosing and crafting images that look like video stills will help your ad fit in with the YouTube videos surrounding it. At the same time, using white text and a concise CTA clearly spells out for the viewer the value-add of new and cost-effective software products, prompting them to click and "Start Today!"
Design Specs
GIF, JPG, PNG formats accepted
File size: 150KB max
Recommended image size
300×250 or 300×60 image specs (px)
Pro Tip:
Take YouTube's white background into consideration when creating your ad; choose bold colors that will stand out.


SNAPCHAT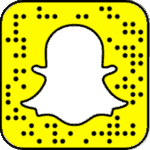 Snap Ads can take the form of video (including GIFs) or still images.
They used to be expensive, but with Snap Inc.'s new self-service Ad Manager, businesses of all sizes and budgets can advertise on the platform.
While Snap offers a sponsored geofilter and sponsored lens, Snap Ads are shown in full vertical format between people's publicly posted Stories.
Image ads can appear as slideshows, GIF-like, or as still images. They will be 3–10 seconds in length.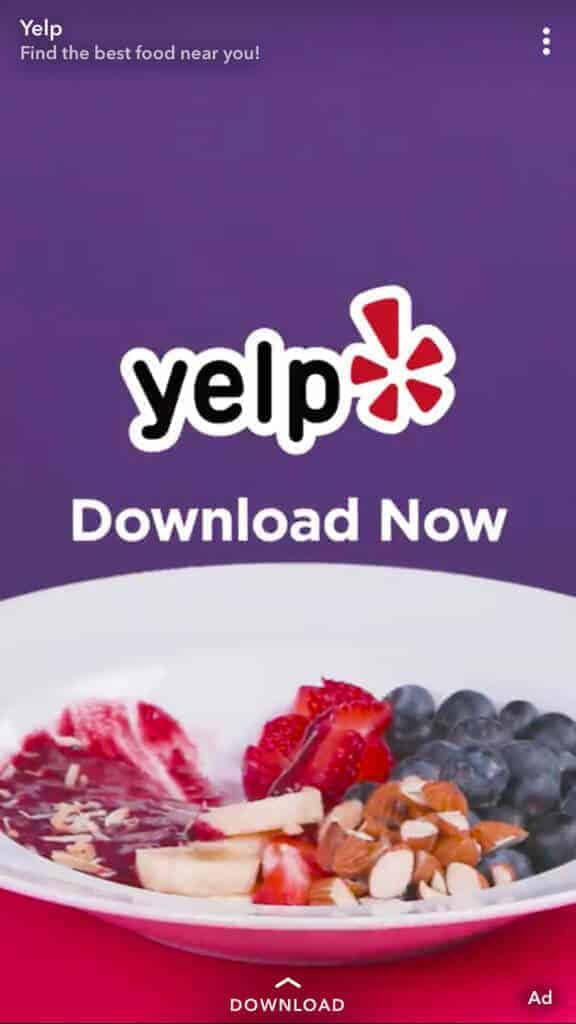 As with other image-centered platforms, such as Instagram, Snap Ads offer a lot of creative leeway in communicating your message.
In particular, Snapchat is a great platform for connecting with millennials, vying with Facebook to be the top platform.
If your team focuses on on-demand delivery, like Yelp, for example, Snap is a great place to promote your products and/or services.
If you are trying to reach a new and younger crowd, as Nike, Taco Bell or even General Electric are, Snapchat is also a great place to test the waters.
Design Specs
9:16 aspect ratio
JPG or PNG formats
5MB or less (weight)
Make sure your brand name (up to 25 characters with spaces) exactly matches the paying advertiser; must include headline of up to 34 characters with spaces.
Images must be approved for viewing by a 13+ audience.
Recommended image size
Full-screen canvas: 1080 X 1920 px
Pro Tip:
To prevent overlap, don't place logos or other graphic elements within 150px of the top and bottom of your ad.


PINTEREST

With new updates, including the image-matching feature Pinterest Lens, along with Instant Ideas and Search Ads, Pinterest marketing has been skyrocketing in popularity among marketers in 2018.
The advantage of Pinterest over Facebook and Instagram is that it is relatively streamlined in comparison; there are fewer choices, so marketers can really home in on making their content the highest quality without being confused by which format to select.
The advantage of Promoted Pins (the most established version of Pinterest ads) is that they don't interrupt or distract Pinners. They actually make Pinterest better, because they help people find new products and ideas. In fact, 73% of Pinners say that content from brands makes Pinterest more useful.


Promoted Pins
This standard format guarantees that your audience sees your pins in their array.
First, be sure you set up your Pinterest business account and add pins and boards to get started. (Right now, you can only promote pins from your public board.)
Then, make your creative:

Starbucks incorporates four images in a vertical narrative into a single, tall promoted pin above. This is a great example of making do with less space (i.e., in contrast with an Instagram story or Facebook carousel). Getting creative within the limits of Pinterest's offerings can really set you apart from the competition. (Note: Promoted pins are available only to partners in the US, CA, UK, IE, AU, & NZ.)
Design Specs
Aspect ratio from 2:3 to 1:3.5 (width to height)
JPG, PNG, GIF formats
Recommended image size
Ideal size: 600 (width) x 900 px; max height: 2100 px
Pro Tips:
Use vertical images to capitalize on users' full mobile displays. Having pins that are taller than they are wide allows them space to stand out.
Pinterest suggests publishing positive ads that fit in with many viewers' boards and inspire them.


TUMBLR

Like YouTube, advertisers sometimes overlook Tumblr when building their suite of campaigns. Wrong move!
Tumblr boasts over 200 million blogs and 80 million posts per day and more than 70 percent of Tumblr users prefer spending time on the Dashboard, where Sponsored Posts appear, over other sites.
With Tumblr ads, you have a great opportunity to diversify your current marketing strategy and post in areas your competitors might forget.
On Tumblr, your brand can reach a vast engaged audience. But, that kind of volume means you also need to find ways to stand out from the crowd.
To find out how you can best advertise on Tumblr to benefit your business and reach new customers you can click here.


Sponsored Posts
With Tumblr Sponsored Posts, you can create ads that are single images, multi-images, or carousels.
Below, the multi-image format is a great choice to showcase products in multiple angles, settings, and colors.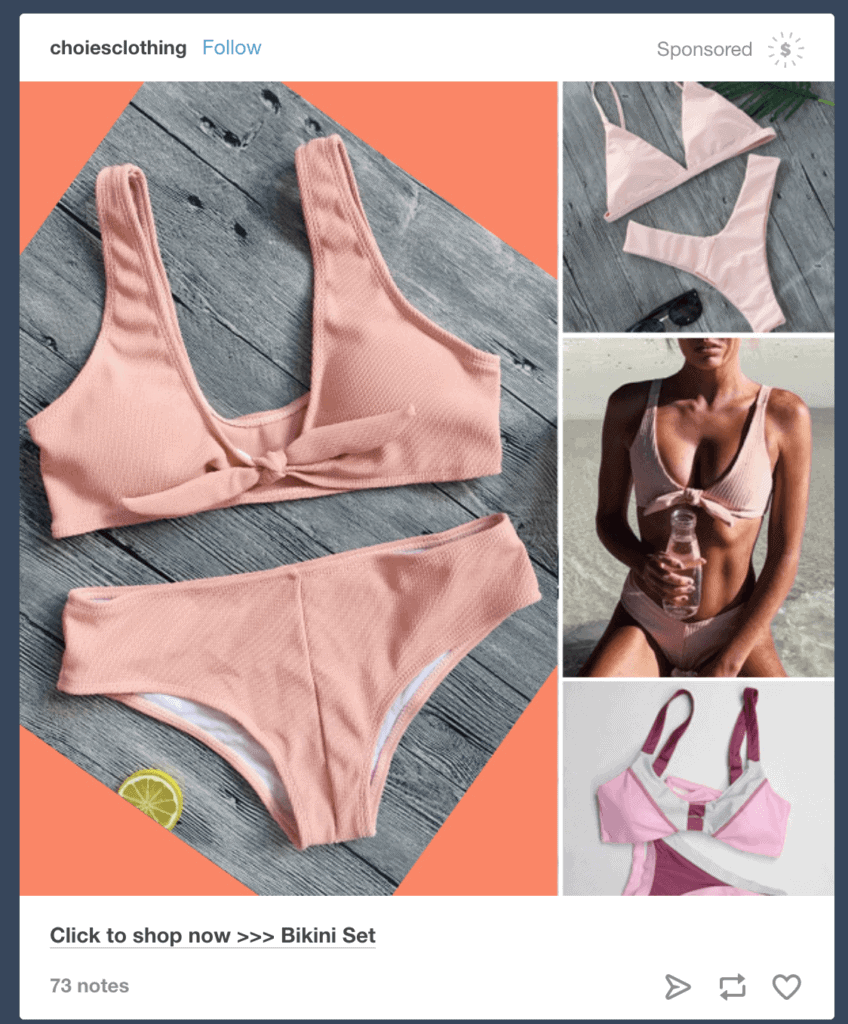 The Sponsored Post is generally indistinguishable from the rest of the content in your feed—except for a subtle but practical "Click to shop now" CTA.
The integration of sponsored and regular posts keeps the experience of using Tumblr personal. In turn, this helps the platform stay popular among its user base—and it's a consistent bet for marketers.
Design Specs
Static image max file size: 10MB
GIF max file size: 3MB
CTA options: Learn More, Contact Us, Shop Now, Sign Up, Watch More, Subscribe, Book Now, Apply Now, Get Quote
Recommended image size
Static image: 500×750, 1280×1920 (px)
GIF: 540×750 px
Pro Tips:
Tumblr's ad server optimizes the placement of content based on engagement. Choose fun and enticing images to help ensure the most views.
If you use GIFs, Tumblr recommends keeping them slow-motion in order to not overwhelm users.


ADWORDS

Although millions of advertisers use the AdWords platform, it's one of the more difficult platforms to navigate.
AdWords can be great if you have a bit of room in your marketing budget and are looking to diversify and/or test a new strategy.
In particular, since the goal of AdWords is to attract new customers based on users' search queries—it can be great for driving a quick uptick in sales.
Wider ads tend to outperform taller ones, as readers integrate these into their reader-friendly feeds.

If you're introducing a new product on AdWords, try mimicking the way a reader scans from left to right.
Here, Google relays its brand, product, product version, and CTA to dovetail with how a user is already consuming content.
In total, AdWords has a detailed list of image-sizing instructions:
Square and rectangle
| | |
| --- | --- |
| 200 × 200 | Small square |
| 240 × 400 | Vertical rectangle |
| 250 × 250 | Square |
| 250 × 360 | Triple widescreen |
| 300 × 250 | Inline rectangle |
| 336 × 280 | Large rectangle |
| 580 × 400 | Netboard |
Skyscraper
| | |
| --- | --- |
| 120 × 600 | Skyscraper |
| 160 × 600 | Wide skyscraper |
| 300 × 600 | Half-page ad |
| 300 × 1050 | Portrait |
Leaderboard
| | |
| --- | --- |
| 468 × 60 | Banner |
| 468 × 60 | Banner |
| 728 × 90 | Leaderboard |
| 930 × 180 | Top banner |
| 970 × 90 | Large leaderboard |
| 970 × 250 | Billboard |
| 980 × 120 | Panorama |
Mobile
| | |
| --- | --- |
| 300 × 50 | Mobile banner |
| 320 × 50 | Mobile banner |
| 320 × 50 | Mobile banner |
| 320 × 100 | Large mobile banner |
Additional Design Specs
GIF, JPG, PNG formats
150KB max size
If uploading a .zip, 40 is the maximum number of files; images should already be resized to fit the ad shape.
Additional ad image sizes are available in different regions of the world; Google lists these nuances on its site.
ProTips
When creating custom images, use transparent 24-bit PNG formats; if you don't have a transparent PNG, make sure your ad color scheme matches the background.
Make sure your ad CTA is bold and distinguishable from its background site.


Conclusion
Bookmark this cheat sheet for quick reference as you incorporate images into your social media ads in 2018.
This resource will help you cut down on extensive Google searching and image testing, so you can quickly create ads that achieve your specific objectives and leave viewers with your desired impression.