Reading Time:
9
minutes
If you're a quickly growing agency, you need to constantly be collecting and analyzing your results. This can be a make-or-break in keeping up your momentum, making sure you are delivering for your customers and generating new insights for them (and you) on a regular basis.
For example: how do you know which Facebook Ad formats are outperforming? Is this only for particular audiences or for everyone? Which social media platforms are the most popular right now? What recommendations should you give to different types of customers, based on their size, industry, and location?
You can pore back through your notes, rack your brains, or — you can invest in some cutting-edge tools that will quickly organize and delve into your own data, your customer's data (if they give it to you), and, at times, even public industry data.
We've highlighted nine of our favorite Social Media Analytics tools in this post, to give you a sense of how powerful these platforms can be in driving your business, along with price points and tips and tricks on how to get the most out of their features.
Depending on your size and client base, some tools will be better suited to you than others. AdEspresso, of course, works for everyone, but you know that already (and if you don't, you should click here and give it a try).
For example, if you're a big team (or a small team with big dreams) with a range of client strategies across all social media platforms, Hootsuite or AgencyAnalytics could be your best bet!
If you're smaller and keen to get started via an efficient route, Snaplytics or Minter.io, which focus exclusively on Snapchat and Instagram analytics, can quickly bring you up to speed.
Whichever tool(s) you go with, this article will help underpin your research to ensure you make the right choice(s) that will help you take the next step in developing sharp and maybe even surprising insights for you and your clients!

1. Hootsuite
Hootsuite has developed its agency partner program into one of the most established services in the industry. Supporting over 30 social media platforms, including Facebook, Google+, LinkedIn, YouTube, and many more, Hootsuite is your best bet if you deal with a wide range and high volume of customers.
Hootsuite's analytics platform starts with a central dashboard view for each form of social media that a customer has linked.
Here, you can view an example of a Twitter dashboard: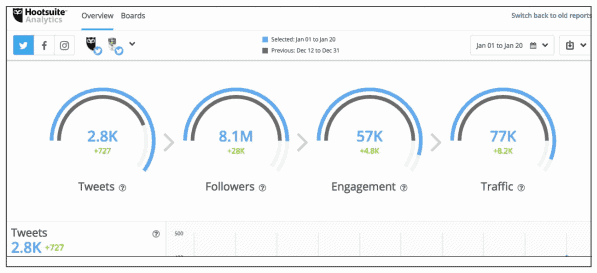 After setting parameters for dates, you can quickly view basic metrics like followers and traffic, along with their growth rates for that time period.
On the top left, toggle among the myriad platforms that you've decided to add.
The more powerful parts are for when you want to get down into the granular details.
For example, Facebook Insights offers breakdowns of metrics like followers into demographics and geography.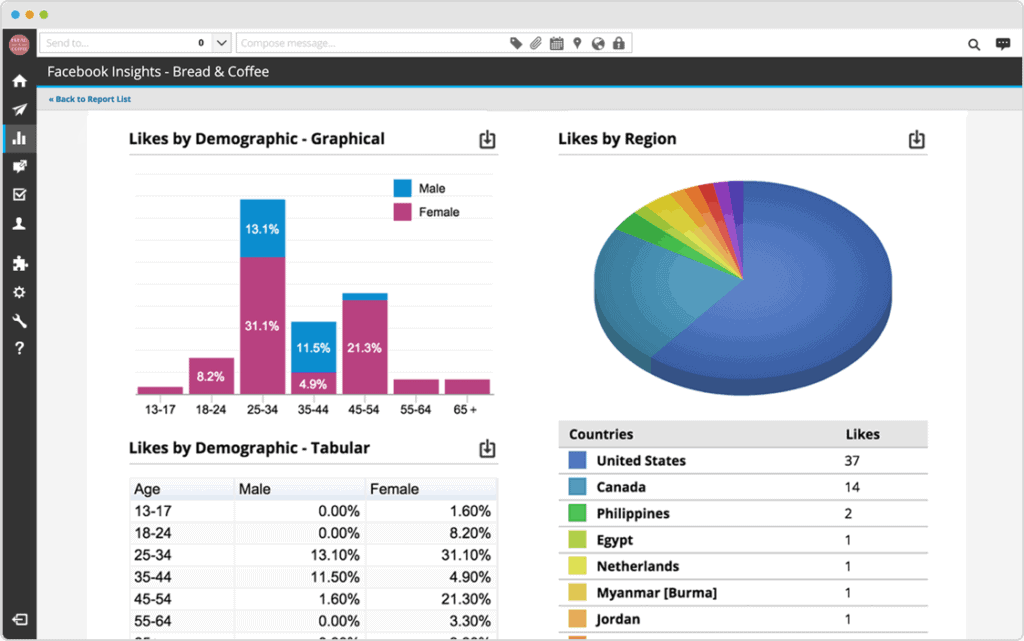 For more visual learners, Hootsuite allows for graphical as well as tabular views.
Hootsuite is great for agencies of all sizes, but particularly for the larger ones as it allows you to manage permission levels so that certain employees only have access to the accounts they're associated with for increased privacy.
Agencies get Facebook Page and Twitter Profile reports for free. From there, prices range from $19/mo. to $599/mo.
Agencies might find a sweet spot with a "team" free 30-day trial that includes 20 social profiles, unlimited post scheduling, and three users.
You can also download their Analytics quick start guide here.

2. Snaplytics
Snaplytics is more specific. This platform offers analytics only for Snapchat and Instagram. That being said — because it does less, it is expert in these areas!
For Snapchat, Snaplytics creates an entire library of every customer's historical content and their engagement to date.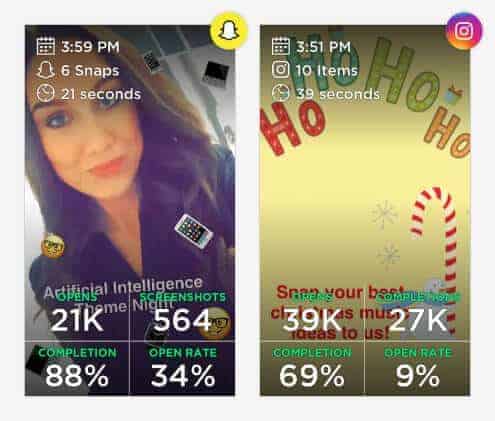 You can quickly locate top-performing posts in order to find patterns and create similar content.
Snapchat can pose challenges for some customers with its somewhat clunky interface, but those businesses that do succeed with its formats have found enormous success.
In Q1 2018, Snapchat had 191 million daily active users. This is more than a 15% increase from just a year earlier. Its growth and unique feel make it a goldmine for those who can figure it out.
To this end, Snaplytics has a unique benchmark feature that allows agencies to compare results with the overall industry.
In Q2 2017, for example, they published key findings for Snapchat users: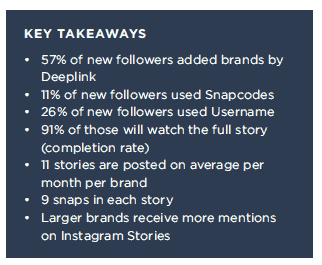 Data like this, along with their other quarterly reports, blogs, and video content, are enormously useful for Snaplytics users looking to maximize their ROI.
For example, a 91% completion rate in watching stories could prompt agencies to spread key takeaways throughout a Snap — as opposed to Facebook videos, where advertisers want to get their message across in a shorter time frame.
While plans and pricing are negotiable with a Snaplytics sales rep, agencies can test a live marketing campaign on Snapchat or Instagram Stories for free for 14 days.

3. Quintly
Quintly is an analytics tool for professionals working across Facebook, Twitter, YouTube, Google+, LinkedIn, and Instagram.
What's cool about Quintly is that the team has developed its own (and the first) social media language called QQL.
Based on SQL, QQL stands for Quintly Query Language and allows teams to define and write their own custom metrics based on varying weights and to adapt to clients' KPIs.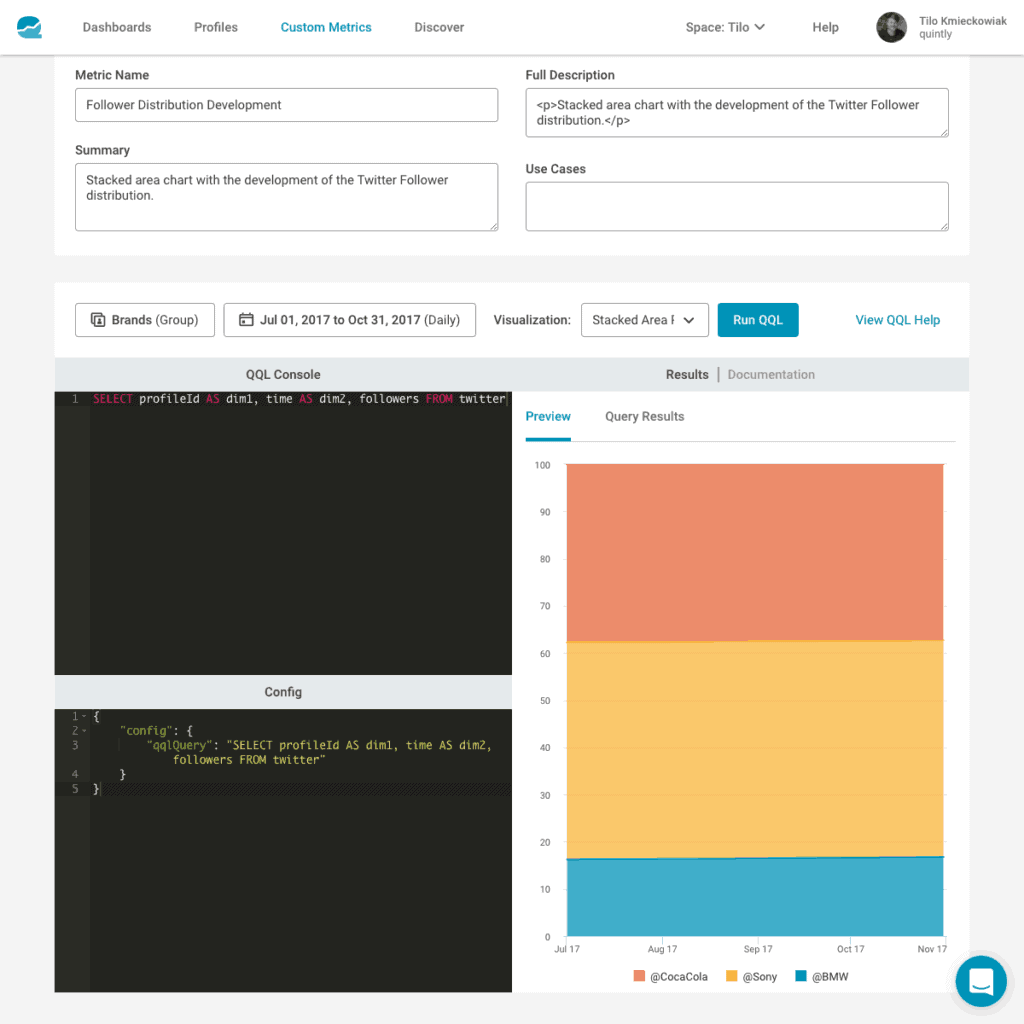 Agencies that use quintly can bring another level of customization to client projects.
For example, if a client is interested in a particular data visualization like a stacked chart (shown above), this can be written into the QQL code. You can view several accounts side-by-side in this way to better understand trends and how competitors are stacking up against one another.
While quintly only focuses on a subset of social media platforms, its technology makes it a tad more expensive than some other tools, with plans ranging from $129/month to $479/month and beyond.

4. AgencyAnalytics
Within its range of engagement tracking features (similar to Hootsuite), AgencyAnalytics offers its clients specific keyword tracking and advanced SEO metrics.
This can be a great option for clients looking to draft text that gets better results.
Reports include keyword-ranking history across multiple search engines — notably Google organic, Google local, Google mobile, and even Bing.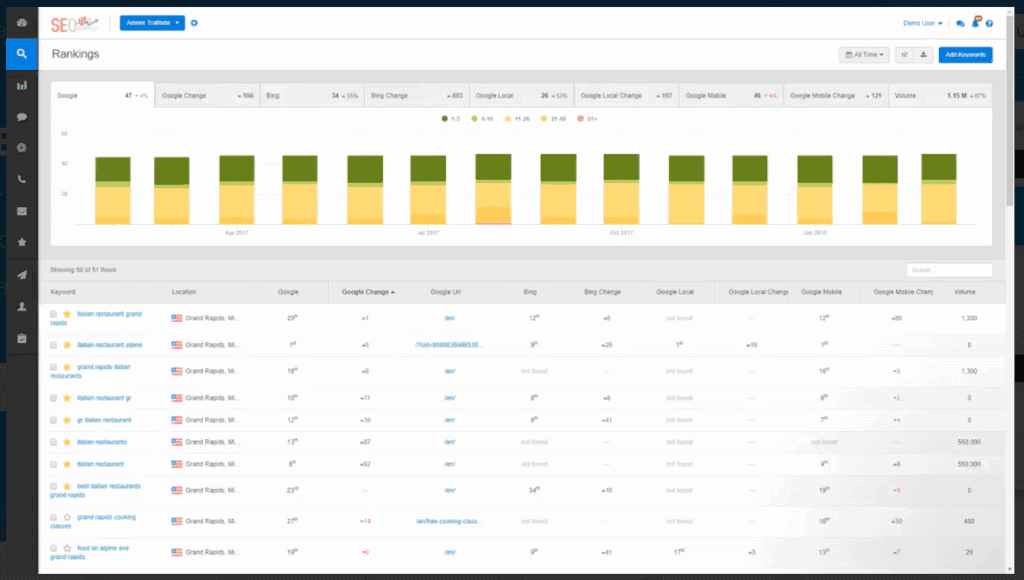 With AgencyAnalytics you can even run a full technical SEO site audit to root out any onsite SEO issues that are weighing down rankings. The tool quickly addresses these issues in order of importance to give clients a boost.
Other reports include PPC, social, email, and even call tracking.
Prices range from $49/month (just five campaigns, 500 keyword rankings, and 50K site audit pages) to $499/month (100 campaigns, 5,000 keyword rankings, and 500K site audit pages). In between, there are tiers for agencies of all sizes — startups to established enterprises looking to scale.

5. Google Analytics
Google Analytics is a free tool. But this doesn't mean it's cheap! Google Analytics has historically been one of the most powerful tools for teams of all sizes.
You just need access to your customer's GA accounts to get started.
From there, a Social Pages report gives you a list of the pages on your site that get the most attention with social media traffic.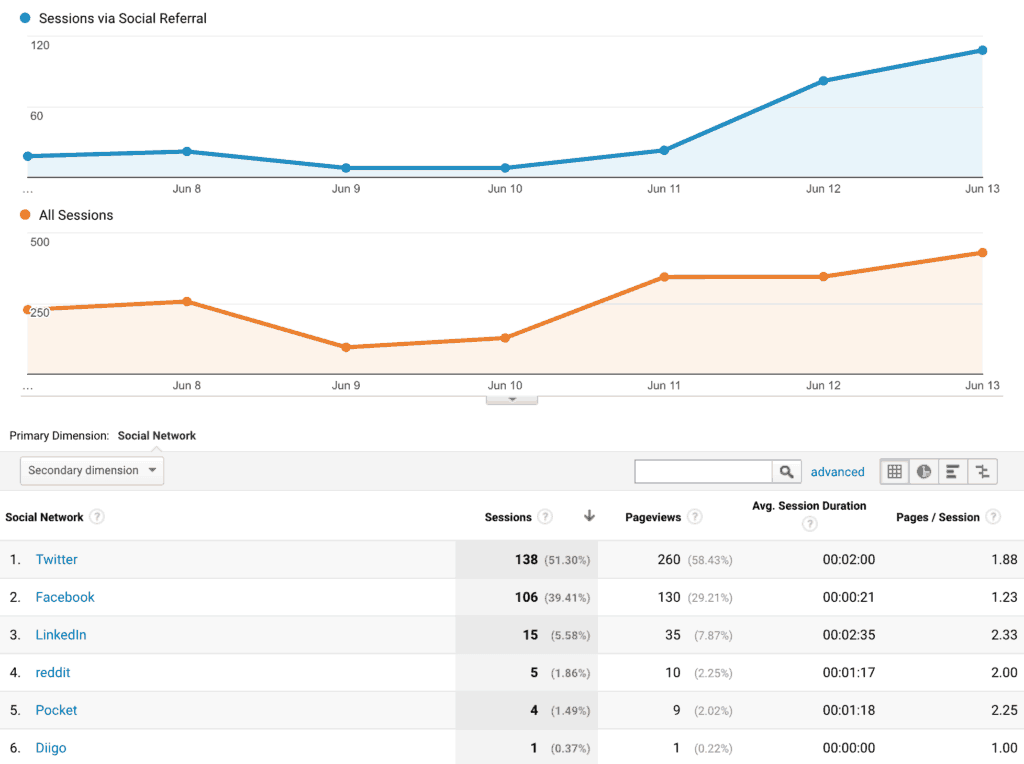 Here, the client can see that their Twitter pageviews are outpacing even Facebook and LinkedIn, driving 58.43% of total page views.
What's cool about Google Analytics is that it can help you paint a picture of how a user is interacting with your site.
For example, average session duration and pages-per-session statistics describe how long a user will stay on a client's site and how often they might click around. This can tell a story about their level of interest (or boredom) — and you can tailor your campaigns and the development of new sites accordingly!
Google also gives you an activity stream with recent actions and conversations on social networks related to your site and a conversion report by social networks to reveal real results.

6. Minter.io
Instagram just hit one billion monthly active users and is the fastest-growing platform this year. (Side note: Stories are the most popular IG format with tons of new creative options.)
If you're an agency, making sure you have robust Instagram analytics is an absolute must in 2018.
Minter.io will give you just that.
For managers, this tool is a gem. It's easy to assign specific employees to Instagram campaigns and invite clients to access their accounts — streamlining communication and organization on all fronts.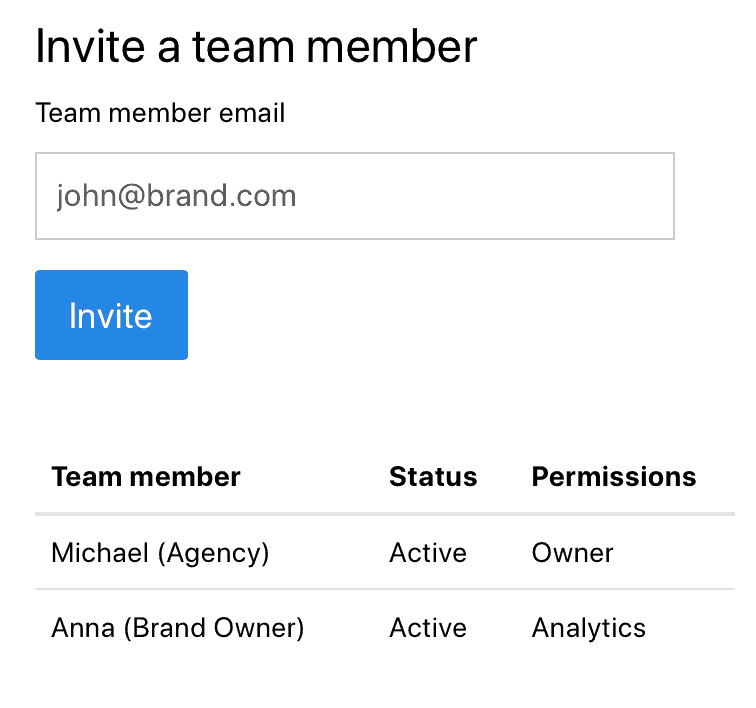 For reporting, Minter.io is one of the most efficient tools we've found.
Instead of just viewing and printing your analytics, the software allows agencies to generate immediate and aesthetically pleasing PDF and PowerPoint reports via Minter.io templates.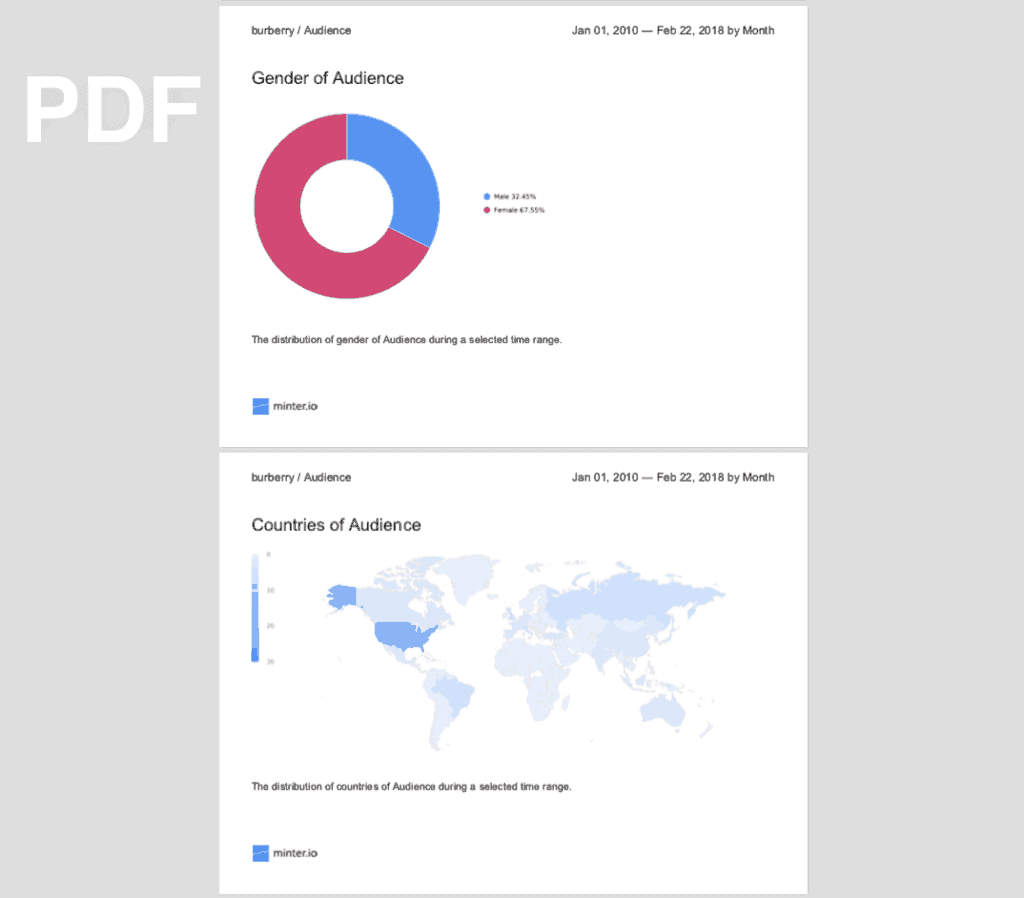 You can even white-label these reports, automatically adding your company logo to turn them into branded content. Schedule them for delivery on a regular (monthly, weekly, or even daily) basis so you don't miss a beat with your clients!
If you want to customize these reports even further and create your own data visualizations, you can export it into Excel or CSV.
Prices range from $9/month to $39/month. If you just want to home in on Instagram, this is a far cheaper option than a full-suite platform like Hootsuite or AgencyAnalytics that can still deliver a high ROI based on Instagram's soaring popularity this year.

7. Hashtagify
It might seem strange to have an entire tool devoted to hashtag research. Is that really worth investing in?
In fact, it is.
Hashtags are proven to help your ads outperform and reduce your cost-per-click (i.e., making your overall ad cheaper). They can also be the glue that holds cross-platform (think: Facebook, Instagram, Twitter, even Pinterest) campaigns together.
For example, if a client is creating a competition like the #icebucketchallenge, using hashtags is one way to make it quickly gain steam.
Hashtagify helps you understand hashtag criteria in a slew of new ways!
In this #Tonys example, the tool delivers its overall popularity, weekly and monthly trends, languages used, and much more.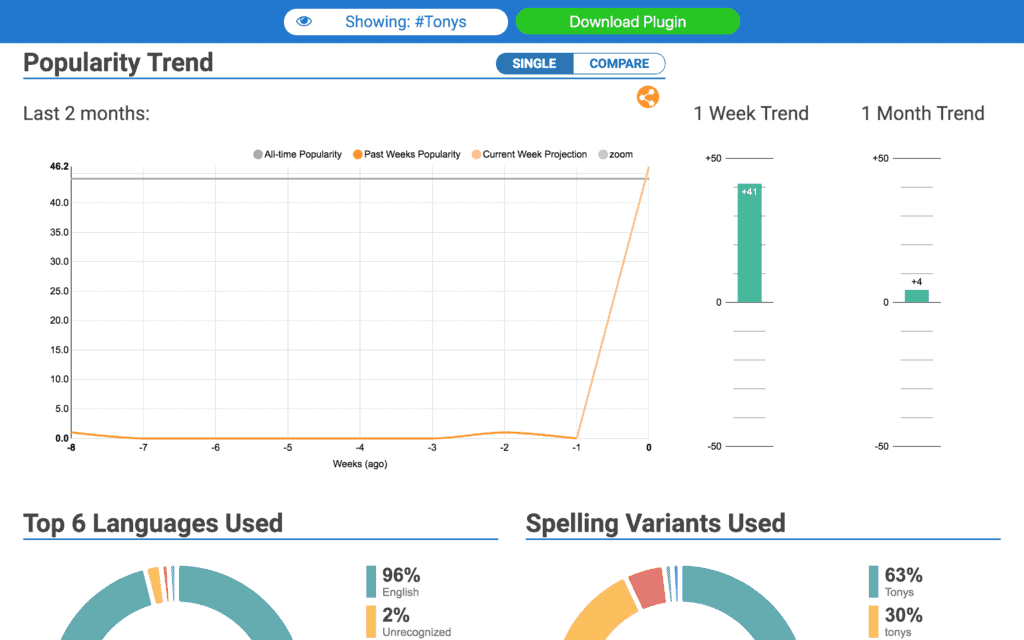 You can use these results to determine if your hashtag ideas are distinct (maybe you want to use a spelling variant?) — or, if there's an existing campaign you're interested in joining, you can get inspiration from the top influencers in the space.
The data comes in a colorful and intuitive format that even new employees to your team can understand.
If you're just doing hashtag research, Hashtagify has a free search tool — but if you want a more comprehensive toolkit, they also have plans for agencies, ranging from $19/month to $249/month.
Since your team would likely want this as an add-on tool, it might make the most sense to steer clear of the priciest option.

8. Audiense
Audiense is a powerful solution to better understand your audiences — where they're based, what their interests and careers are, ages, and more.
The awareness level of an audience will go a long way towards helping you create better marketing strategies.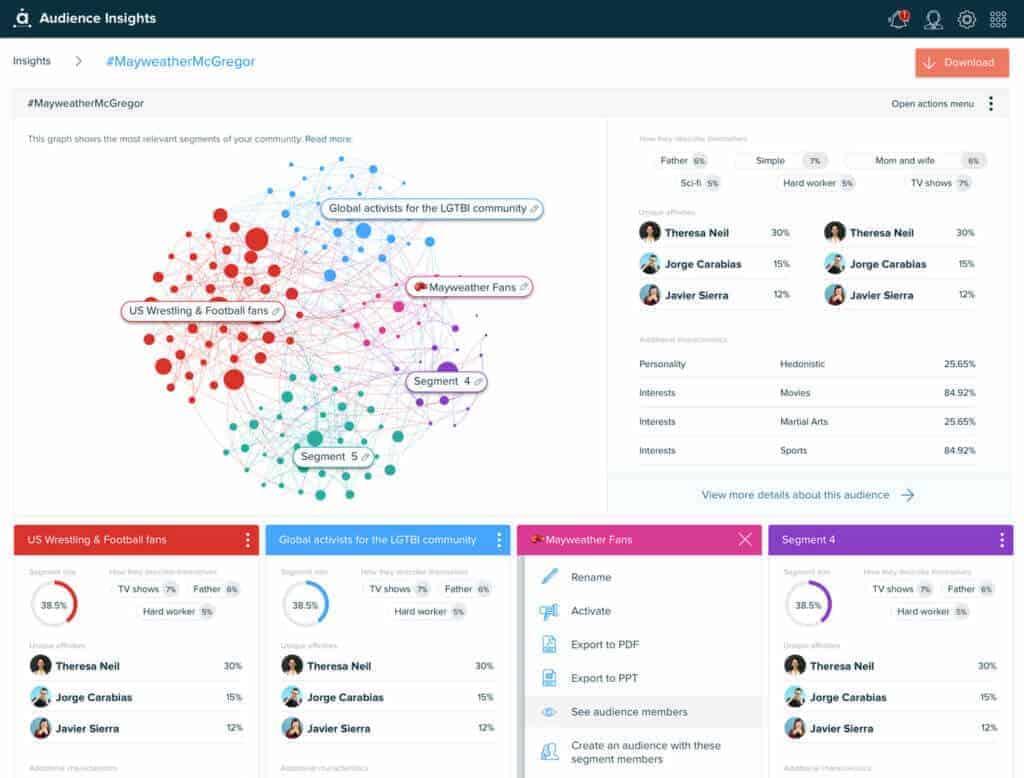 You can even use Audiense to find new potential audiences via relevant segments of your existing community.
If your total Twitter followers + those you follow are less than 5,000, you can qualify for Audiense's (free) analytics solution.
If you meet the criteria, Audiense provides you with a free Twitter profile report, including your followers' demographics, interests, and the extent of your influence.
Professional Twitter analytics plans begin at $31.15 and go all the way up to $758, depending on the size of your community.

9. Klear
Klear for brands and agencies provides analysis on influencers. Influencers run the gamut from cult industry bloggers to YouTube stars to local Instagrammers with surprisingly high follower counts.
If you can help clients build relationships with influencers that their audience is already engaged with, it can go a long way toward boosting their credibility.
Klear's platform allows you to search through 500 million profiles, 60,000 categories, and five years worth of historical data to zero in on the exact influencers your clients want to connect with.
A search for Instagram, Power User, and Yoga, for example, can lead to the following results: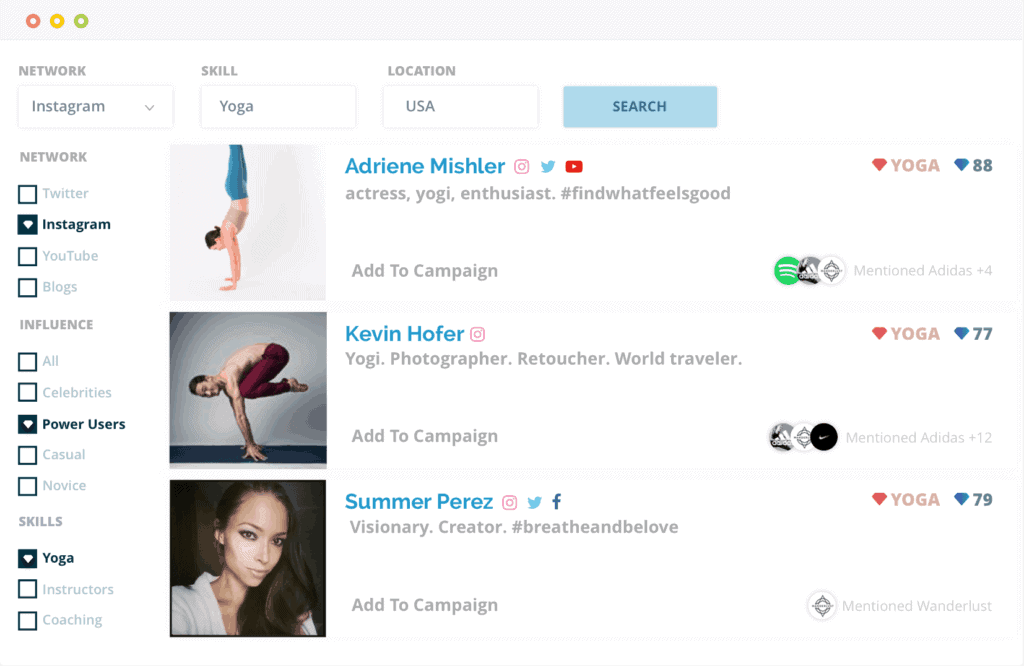 With this analysis, you can vet the accounts — spend time with their posts, even reach out to them to start a conversation or interview process.
Clicking on any one profile will deliver the following analytics: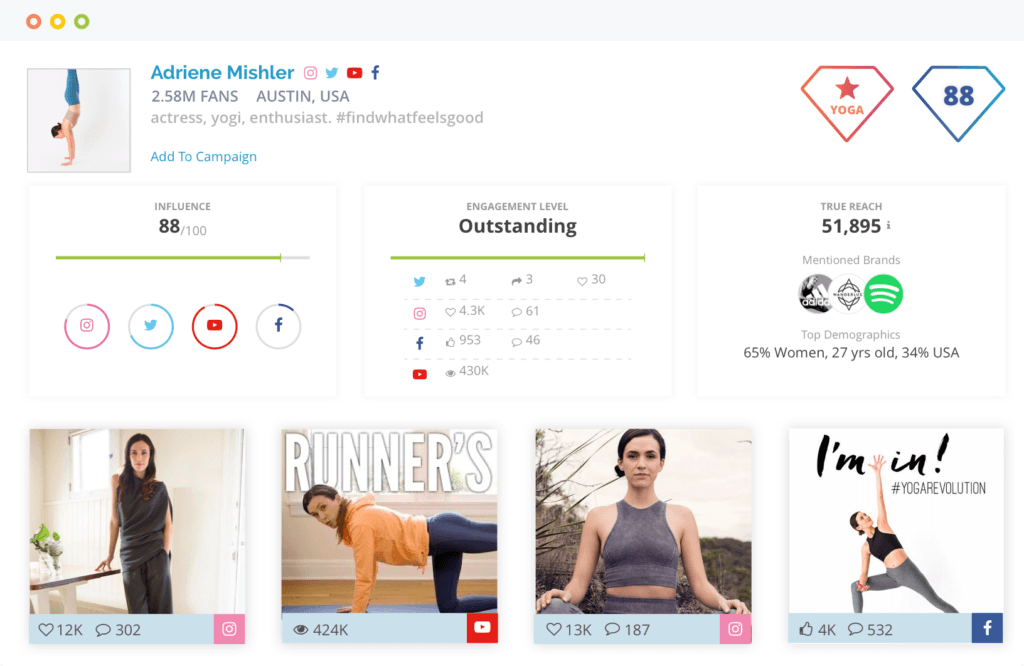 Top posts, number of likes, views, comments, their true reach, and demographics that they click with — all of these data points will boost your confidence when presenting new strategies to your customers.
Like Hashtagify, Klear has a set of free tools that could be great starts if you're experimenting in the space.
If you're an established brand looking to develop strategies around influencers, you can schedule a demo and negotiate a price from there.

Time to Test
More tools are out there and are being developed every day. Buffer, for example, one of the largest and most established social media management companies, is quietly developing its own new analytics tool. (You can request early access here.)
While the above list isn't comprehensive, it is a selection of our favorites that all agencies should consider at any stage of their development.
If you're a big name or even a startup team, these latest platforms and niche tools will help you better understand what's working (and what's not) for your clients. From there, you can develop the best strategies to help them succeed.
Time to open up your pocketbooks (or just begin with a free trial) and get analyzing!